We have achieved another milestone here at Plate Recognizer as our automatic license plate recognition (ALPR) software now identifies a vehicle's make, model and color!
A Car Make is simply the company that manufactures a car such as Toyota, BMW and Tesla. A Car Model on the other hand is the product the manufacturer sells to customers. It is simply the name of the car. For Honda Civic, as an example, the make is Honda and the model is a Civic.
What is Vehicle Make Model Recognition?
Vehicle Make Model Recognition (VMMR) is the ability to recognize the make and model of a vehicle from an image or camera feed. Our software covers over 9000 Vehicle Make Models from vehicles across six continents and sold in over 50 countries worldwide.
A good photo of the vehicle is required for the software to accurately identify the vehicle make model. Just like how a person cannot differentiate a vehicle by merely looking at a small part of the car, such as the wheel or fender, it is important to capture at least the full rear or full front of the vehicle.
See the two vehicle images below. Our Vehicle Make Model Recognition (VMMR) performs well for photos with a good view of front or rear of the car.
Figures indicate confidence level of the recognition. Source: Plate Recognizer Clients.
What about Vehicle Color?
Vehicle Color Recognition is the ability to recognize the color of a vehicle from an image or camera feed. As expected, this works well mostly in the day time, as opposed to the night time. It works sufficiently well even in situations where the vehicle is shaded from the sun, where the natural vehicle color may be distorted.
Our ALPR software can identify the following colors: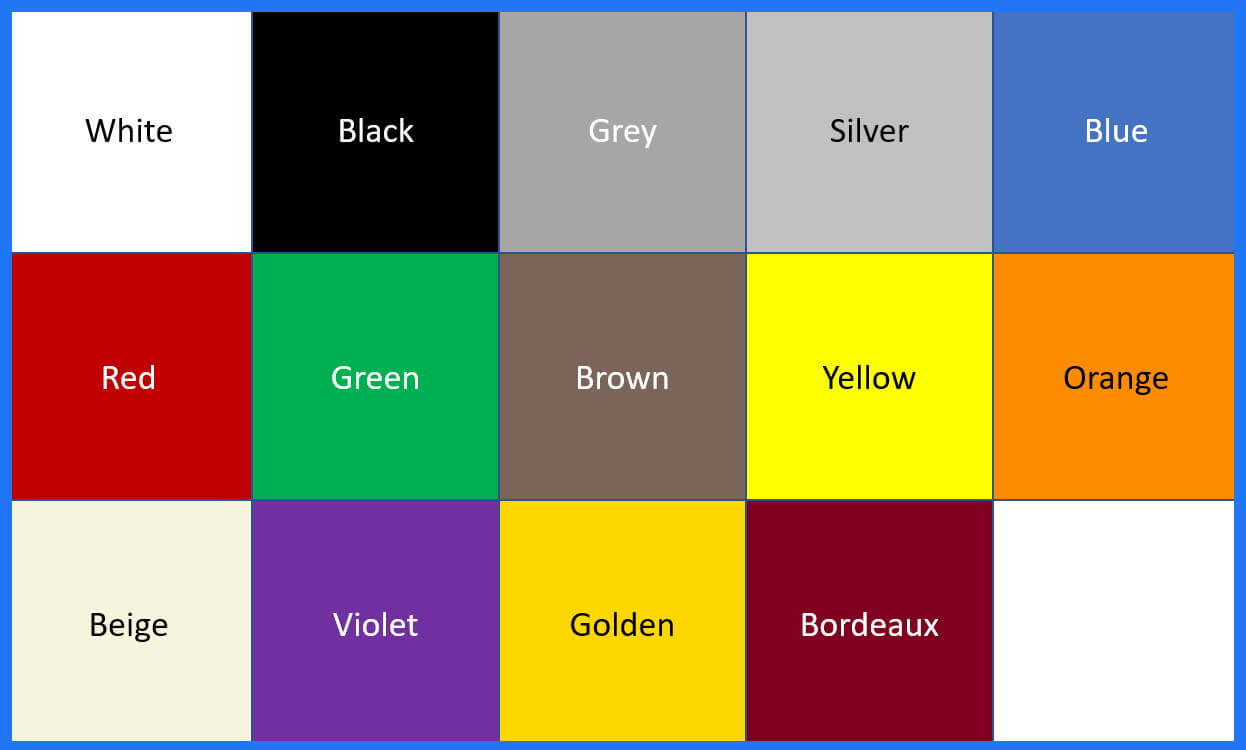 Source: Plate Recognizer .
Why is Vehicle Make Model and Color Important?
A Vehicle Make Model Recognition system helps strengthen your vehicle monitoring and identification solution with the vehicle's appearance and color in addition to the vehicle's attached license plate recognition.
This capability is beneficial for the following use-cases:
Improved Security

. Some people swap out plates with another vehicle and then drive away with the new car. However, by detecting the vehicle's make, model and color, it becomes much harder to merely swap out the plate.

Easier Identification

. Vehicle make model recognition makes it easier for law enforcement agencies and authorities to identify target vehicle and issue a citation. It is a whole lot easier to spot a blue Honda Civic with license plate 123ABC as opposed to just a vehicle with license plate 123ABC.
Local Advertising. A billboard can present a certain ad based on the make and models of the vehicles at the stoplight. This can present a whole new world of location-based, targeted advertising.

Faster Surveillance

. A vehicle's make model can complement the license plate recognition system by providing a higher level of robustness against fraudulent use of license plates or poor image quality. VMMR could also be used to speed up event crime capture as it reduces the amount of footage to be watched since the vehicle make model is known.
Customer Segmentation. A retail store may want to better understand their clientele by analyzing the types of vehicles that show up in the parking lot.
Which Vehicle Make Models Are Included?
We have over 9000 Vehicle Make Models in our Plate Recognizer VMMR database, capturing a variety of vehicle types such as cars, buses, vans, etc.
Here is a quick description of different vehicle types.
Big Truck

is a vehicle designed to transport cargo. Trucks vary greatly in size, power, and configuration. Examples include Komatsu Haulpak, Freightline Inspiration and Caterpillar Challenger.

Bus

is a road vehicle designed to carry many passengers. Buses can have a capacity as high as 300 passengers. Examples include Skoda 15Tr, Optare Versa and the Isuzu Gala.

Motorcycle

, often called a motorbike, bike, or cycle, is a two- or three-wheeled motor vehicle. Examples include Ducati Scrambler, Kawasaki Vulcan and the Suzuki Intruder.

Pickup Truck

is a light duty truck having an enclosed cab and an open cargo area with low sides and tailgate. Examples include Ford 150, Mazda Titan and the Daihatsu Hijet.
Sedan is a passenger car with a closed body in a three-box configuration with separate compartments for engine, passenger, and cargo. Examples include Toyota Camry, BMW 5 Series and Open Corsa.

Sport Utility Vehicle (SUV)

is a vehicle that combines the elements of road-plying passenger cars with features from off-road vehicles, such as raised ground clearance and four-wheel drive. Examples include Nissan Xterra, Mercedes Benz GLS and the Renault Grand Modus.
Van is a type of road vehicle used for transporting goods or people. Examples include Honda Odyssey, Citroen Dispatch and the Peugeot Boxer.
The table below shows the break down of the total Vehicle Make Models by Vehicle Type. For some of the models, we conducted detailed research and debated on exactly what type of vehicle it is!
Source: Plate Recognizer Analysis
Vehicle Models by Make
For car afficionados, you'll appreciate the following table on the number of Vehicle Makes by each Vehicle Model. Since there are over 450 Vehicle Makes, we captured those with over 100 Vehicle Models only. Otherwise, the table will be way too long!
Note that some Auto manufacturers distribute the same car but under a different Vehicle Model (or brand name) in a different country.
Source: Plate Recognizer Analysis.
Vehicle Make Model Examples
Here are some examples of our Vehicle Make Model Recognition with Color Recognition in action:


Figures indicate confidence level of the recognition. Source: Plate Recognizer Clients.
How to Activate Vehicle Make Model Recognition?
If you're as excited as we are about License Plate Recognition, then you must at least check out our VMMR technology!
With the Plate Recognizer SDK, it is super easy to activate the Vehicle Make Model Recognition with color detection. No additional software or code is required! Just let us know and we can turn this feature on for your ALPR On-Premise SDK!
Disclaimer! At the time of this writing, we have not yet rolled out Vehicle Make Model Recognition (with color) on our ALPR via API Cloud. It is currently only available for our On-Premise ALPR SDK customers.
Another Disclaimer! There's an extra fee (at 50% of the ALPR prices) to enable Vehicle Make Model and Color Recognition.
---